HOW TO PERFORM HAJJ STEP BY STEP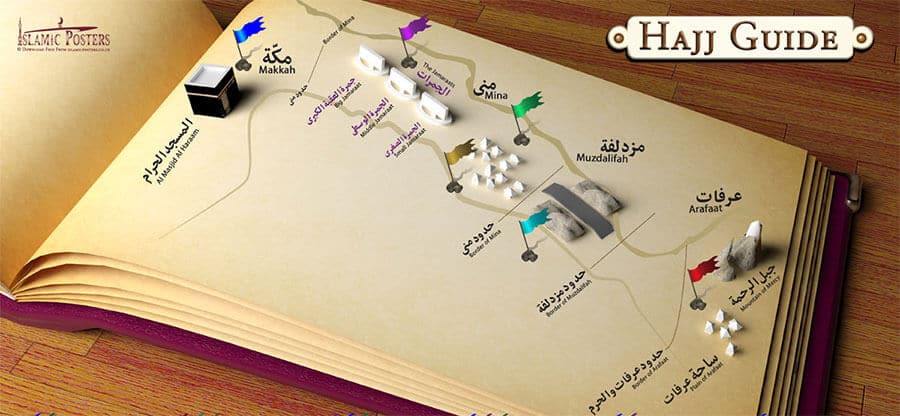 HOW TO PERFORM HAJJ STEP BY STEP
---
STEP ONE: Preparations for adopting Ihraam
Clip all nails.
Remove the pubic and arm hairs.
Do not shave/trim the beard (Men).
Perform Ghusl.
Apply perfume to the body (Men).
---
STEP TWO:
1. At the Meeqaat:
Change into Ihraam (2 pieces for men).
Say: "Labayk-al-laa Hum-ma Umratan"
Recite the Tal-beeyah.
2. Ihraam's Restrictions:
Do not cut the nails.
Do not remove any hair.
No sewn clothes & footwear below ankle (Men)
No perfume.
No covering on the head (men only).
No carnal desire / relationship.
No marriage proposal or ceremony conducted.
No clothing restrictions for the female except for the veil & gloves.
No hunting, scaring, or chasing of animals.
---
STEP THREE: Umrah
1. Performance of 'Umrah
Enter the Haram/Masjid according to Sunnah.
In Wudu, begin Tawaaf at the Black Stone.
Kiss, touch or point hands to the Black Stone.
Say: Bis-mil-laahi wal Ham-du Lil-laah.
Walk anti-clockwise around the Ka'bah.
Walk briskly, expose the right shoulder only in the first three rounds. (Men only)
Between Yemeni corner & Black Stone, read: "Rab-banaa Aatenaa Fid-dunyaa Hasanatan wa fil Aakhirate Hasanatan wa Qinaa Azhaa-ban-naar".
Complete seven rounds in this manner.
Finish the last round without pointing the hand.
Pray 2 rak'ah behind Maqam Ibraaheem.
Descend to Zam Zam well and drink of it.
2. Performance of Sa'ee
Begin at Safa, recite (Ch. 2: 158) and make Du'ah.
Between the two green lights, walk briskly (men only).
At Marwah, offer Du'ah.
Go to Safa & repeat actions done at Marwah.
Complete the 7th rounds at Marwah
No specific Du'ah/Zhikr during Sa'ee.
Shave/shorten the hair.
Now, your 'Umrah is completed.
---
STEP FOUR: The Days of Hajj
1. The Day of Tar-wee-yah (8th Zhul-Hijjah)
Adopt Ihraam, wherever you are.
Read: "La-bayk Al-laa-hum-ma Haj-jah"
Recite the Tal-bee-yah.
After sunrise, go to Mina.
Pray Zhur, 'Asr, Maghrib, Esha & Fajr shortening without combining, on time.
Be constantly in 'Ebaadah.
2. The Day of 'Arafah (9th of Zhul-Hijjah)
After sunrise, go to Arafah before Zawaal
Pray Zhur & 'Asr combined and shortened with 1 Azaan & 2 Iqaamah.
Until sunset, busy oneself in any form of 'Ebaadah, e.g. Du'ah standing facing the Ka'bah.
After sunset, leave 'Arafah and go to Muzdalifah.
3. The Night at Muzdalifah
Upon arrival, offer Maghrib & 'Eshaa shortened and combined with one Azhaan and two Iqaamah.
Pass the nights resting & sleeping.
Pray Fajr and offer Du'ah just before sunrise.
Do not spend the night in wake and talking.
4. Day of Nahr/Sacrifice -10th Day of Zhul-Hijjah
Before sunrise, leave Muzdalifah for Mina.
Stone 'Aqabah with 7 pebbles saying, "Allaahu Akbar" at each throwing.
Offer the sacrifice & shave your head (women will shorten their hair).  The order of these actions does not matter.
Take a bath, don new apparel, apply perfume and leave for Makkah to perform Tawaaf-ul-Ifaadah & Sa'ee.
5. Days of Tashreeq 11th, 12th,13th of Zhul-Hijjah
Waajib to spend the nights of 11th, 12th, & 13th in Mina.
After Zawaal on all 3 days, stone all three pillars with seven pebble each, beginning with the small & ending with the large.
At each throwing say:  Allaahu Akbar
After stoning the small & medium pillar on each day, offer Du'ah facing the Ka'bah.
Spend the Days of Mina in 'Ebaadah.
6. Tawaaf-ul-Wadaa' should the very last duty before leaving Makkah for home.
7. Congratulations and Hajj Mabroor (May Allah accept your hajj): Taqab-ba-lal-laahu Min-naa wa min-kum
---
---
Benefited from this Article, blog, or service, please consider donating something even if it is a one dollar ($1):
---
---
Help Us Maintain the House of Allah.
If everyone visiting our site made $27/month donation or one time $97 donation, then we would :
Add some cool services to the site for free that would benefit you the most.

Create more motivational articles, quotes, lectures you need.

We would create HD videos (which means we have to buy the camera).

We we will not ask for a donation this year.

Our fundraiser would be done immediately because we have the money this year.

You helped us maintain the house of Allah.

You helped us pay expenses such electricity, lights, water, and others...