MASJID PRAYER TIMES
Suhuur Ends 3:46 | Fajr 4:30 | Duhur 1:40 | Asr 5:45 | Maqrib 9:04 or sunset | Isha 10:40
1st Khutbah: 1:15 pm | 2nd: 1:45 pm | 3rd: 2:15 pm
MOSQUE REOPENING ANNOUNCEMENT
It is with the grace of Allah that we announce the reopening of our masjid this Friday June 11, 2021
---
A limit of 15% capacity will be enforced for both Friday khutbah & the five daily prayers.
---
All halaqah and lectures in person are currently on hold until further notice.
---
Please follow all the necessary government regulations and safety measures for your own health and the health and safety of others.
KHALID MOSQUE MANAGEMENT
[Toronto, Canada]
---
Please Donate Now!
Become a Member
The masjid providing free iftaar everyday and free suhuur during the last ten nights of Ramadan. Click Here!
Our Shuyukh & Instructors:
Sh. Bashir Shiil
Imam of Khalid Bin Al-Walid Mosque, and a director of Somali Islamic social services such as marriage, family counselling, & fatwa.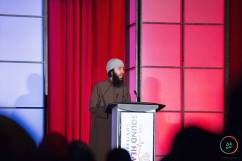 Islamic Instructor-Lecturer at Khalid Bin Al-Walid Mosque, and a PhD in Religious Studies from the University of Waterloo & Wildfrid Laurie University.
5 Reasons why should you join our community and become part of 20,000+ Khalid Mosque members?