THE FIRST STEP SEMINAR!
READY FOR CHANGE?
---
Do you want your path to Jannah to become easy?
Do you want to live a blessed life without stress (filled with Barakah)?
Do you want to stay strong in your religion?
Do you want to boost your eman & come close to Allah?
Do you want to become a better Muslim?
Do you want to increase your Islamic knowledge?
Do you want to master your basic, enough to get you to Jannah?
If the answer is yes, then this program is for you.
Register Now

:
November 30, 2022.
Every Wednesday.
In-person, Zoom, watch it online any time. 
From 5:00 pm to 9:00 pm
==> WHAT IS "FIRST STEP"?
The First Step is a 3 Semester program.
Semester Length: 5 weeks per semester
A minimum of 4 courses per semester.
The program is offered

in-person at Khalid Mosque
or Zoom calls (same time as in-person)
or watch it online anytime, if you're busy.

Perfect for someone with a busy schedule.
This will take you from the very basics to someone who understands their religion much better.
==> GOAL:
is to teach you the basic tenants of your faith.

is to help you develop an attitude of total submission to Allah's divine revelation (Quran and Sunnah).

is to nurture the Islamic personality through a profound understanding of mankind's purpose.

is to develop a sense of genuine connection with your lord.

is to help you reduce stress and move forward in life.

The purpose of this program is to help brothers and sisters who want to learn about their religion, but don't know where to start.
Your journey to know your lord will be made easier by participating in this program.
==> COURSES:
ISLAM1000 [Semester One]: Aqeedah 101, Journey of the Soul, Etiquette of Student of Knowledge, Devil's Deception, Purification of the Soul.
ISLAM2000 [Semester Two]: Fiqh of Marriage, Seerah Makkah, Fiqh of Taharah, Fiqh of Salah, Fiqh of Ramadan, & Judgement Day.
ISLAM3000 [Semester Three]: To Be Announced soon.
==> CLASS INFORMATION:
For Brothers and Sisters
Every Wednesday
From 5:00 pm to 9:00 pm
Upstairs Classrooms (Or Zoom, or watch anytime)
Age: 19 years or older
Fee: $75/Semester.
If you're hungry for knowledge, then register now for this seminar.
Our goal is NOT to make you a "Shaykh", but to provide you with enough knowledge and resources to help you worship Allah with insight.
==> FLYER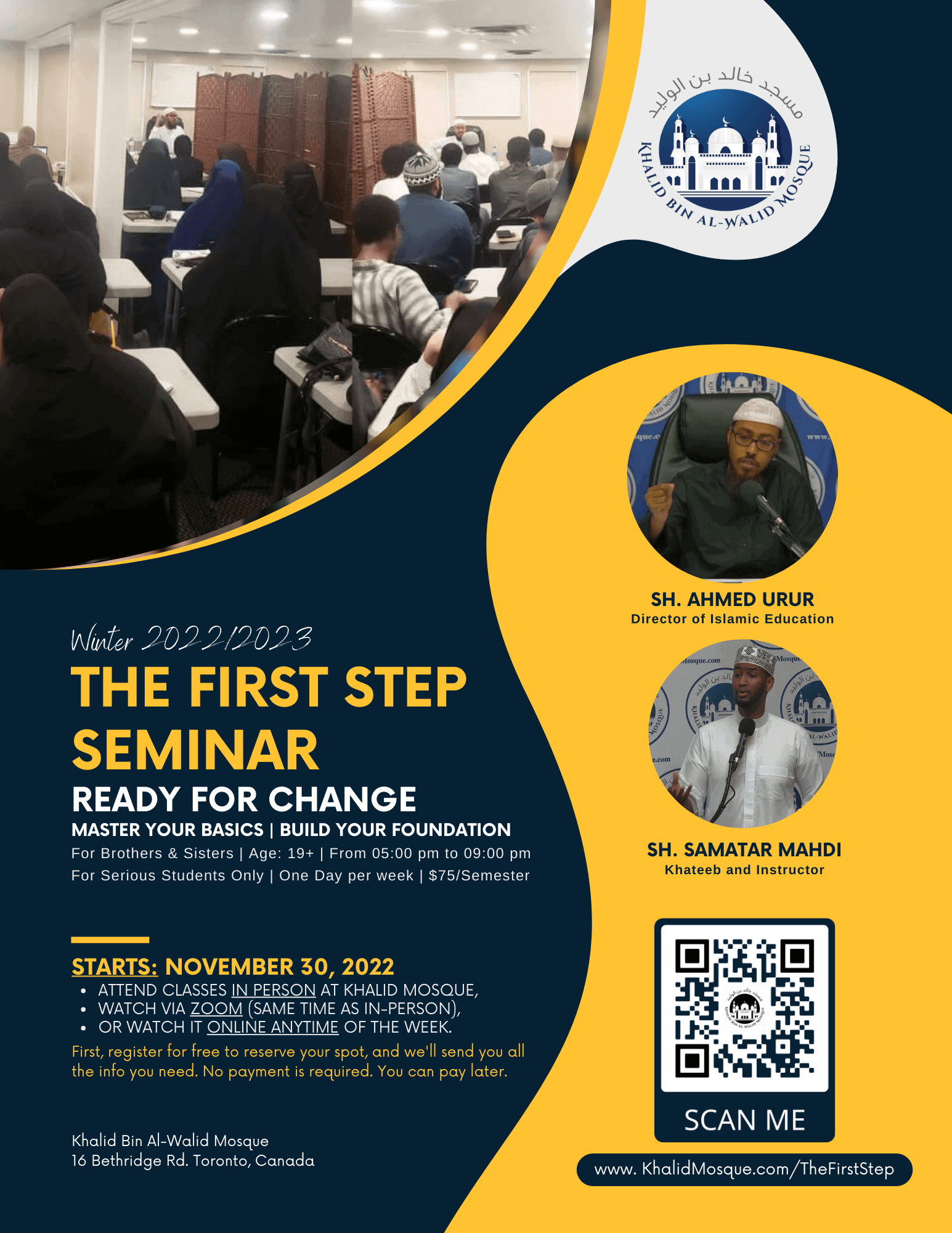 ==> INSTRUCTORS:
SH. AHMED URUR:
Ahmed Urur's quest for knowledge began in 2011, when he was accepted to the Islamic University of Madinah, where he spent seven years studying. He graduated from the Arabic Institute and then the Faculty of Shariah In 2018, where he studied a wide spectrum of Islamic sciences with some of the world's renowned scholars.
Currently, he serves as the director of Education and Youth Coordinator where he teaches regular classes, conduct friday sermons, and provides youth counselling services.
SH. SAMATAR MAHDI:
Samatar Mahdi is a recent graduate from the Islamic Univeristy of Madinah. He studied their from the years 2014-2021. He graduated from the faculty of Shariah in which he studied many different sciences such as, Aqeedah, Fiqh, Usool al-fiqh, hadith, and many more.
He currently resides in Toronto, Canada where he is active in the community giving classes and Khutbahs in Masjid Khalid Bin Al-Walid.
Choose an Application Form:
OPTION #1:

To register, click the link below:

OPTION #2:

If you can't attend, join the waiting list
Become the first to know about upcoming classes.