MASJID PRAYER TIMES
Suhur Ends 5:40 | Fajr 6:00 | Jumah 1:30 | Duhur 1:40| Asr 5:10 | Maqrib 7:44 or sunset | Isha 9:30
Ramadan is the month of blessings and Forgiveness
"O you who believe, fasting is prescribed for you as it was prescribed for those before you, that you may become Al-Muttaqoon (the pious)". [Baqarah 2:183]
---
Fasting is a means of attaining taqwa (piety, beign conscieous of Allah), and taqwa means doing that which Allah has enjoyed and avoiding that which he has forbidden.
---
Help us maintain the house of Allah by making a monthly or once-off donation.
Toronto Prayer Times
Become a Member
The masjid providing free iftaar everyday and free suhuur during the last ten nights of Ramadan. Click Here!
Our Shuyukh & Instructors:
Sh. Bashir Shiil
Imam of Khalid Bin Al-Walid Mosque, and a director of Somali Islamic social services such as marriage, family counselling, & fatwa.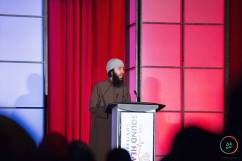 Islamic Instructor-Lecturer at Khalid Bin Al-Walid Mosque, and a PhD in Religious Studies from the University of Waterloo & Wildfrid Laurie University.
5 Reasons why should you join our community and become part of 20,000+ Khalid Mosque members?